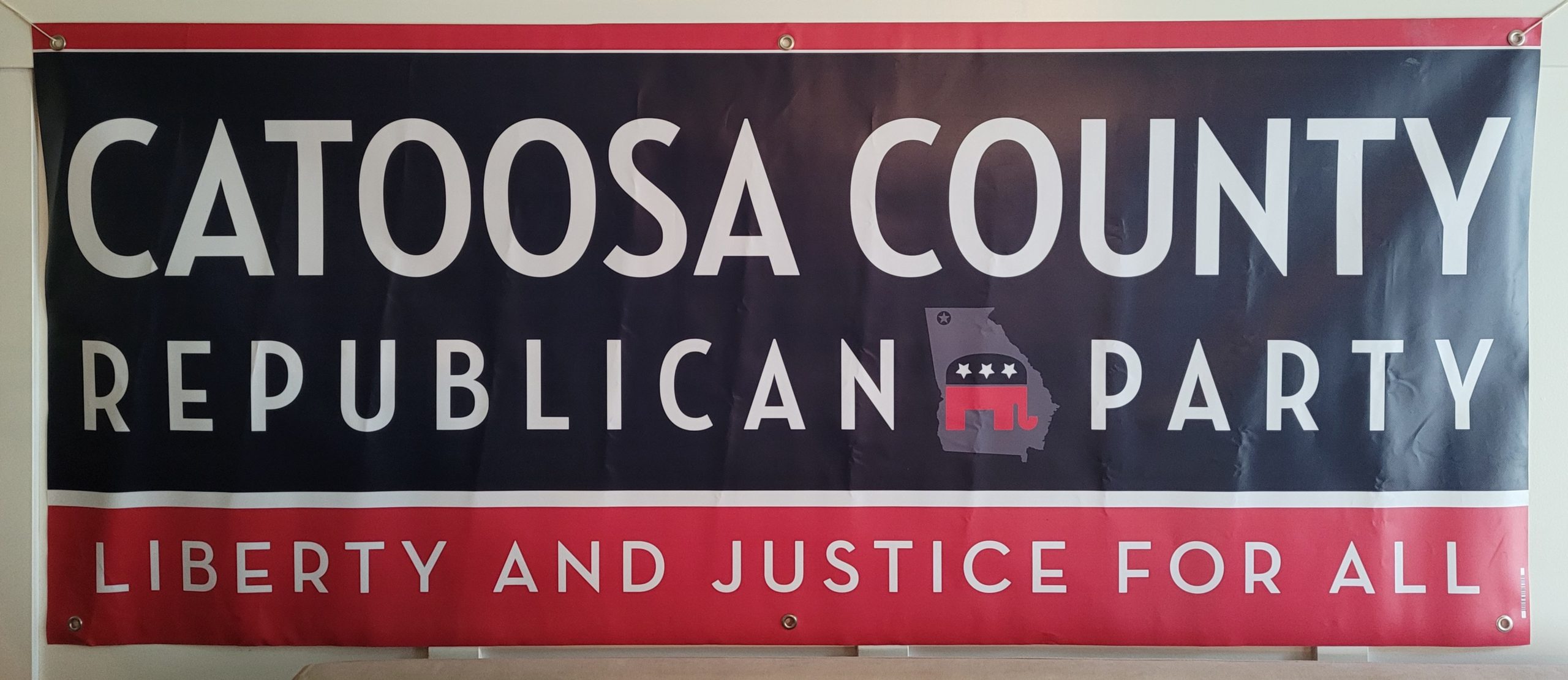 EVENTS



March Meeting
March 6, 2023
6:30 PM
Farm to Fork, 120 General Lee Dr, Ringgold, GA 30736
Come learn about the GOP convention process. Bring friends! Doors open at 6:00 PM. Come early to visit and place your order if you are purchasing dinner.



Precinct Caucus and County Convention
March 11, 2023
9:00 AM
Patriot Hall, 320 Emberson Dr., Ringgold, GA 30736
You must be in line by 9:00 AM to participate in the precinct mass meetings. The county convention will begin at 10:00 AM. Doors open at 8:00 AM. All Catoosa County legally registered voters who believe in the principles of the Republican Party are urged to participate. There is no fee for the precinct caucus. Advance registration aids our planning. Historically, there have been plenty of spots for anyone wishing to be a delegate to the county convention. These delegates are elected at the precinct caucus portion of the morning. Delegates and Alternates to the county convention are required to pay a fee of $10 through March 7 or $15 after that date. The fee is to cover the cost of the convention. Guests are free. In the event you do not stay for the county convention, your fee will be refunded. To register in advance for the county convention, fill out the online registration form. There is a link on the form to make your payment. https://forms.gle/v79aJ1BzCdw5uu9d8



Get Out The Vote Meeting
August 25, 2022
6:00 PM
Catoosa County Library, 108 Catoosa Cir, Ringgold, GA 30736
Join us at this meeting to learn how you can help get every Republican to the polls! We need all hands on deck to SAVE GEORGIA from the radical left agenda. It is crucial that we keep our Georgia state government RED! We need volunteers to make this happen!



May Meeting
6:00 PM
Patriot Hall 320 Emberson Dr., Ringgold, GA 30736
Join us for our May meeting! We'll begin at 6:00 with a meet and greet. The meeting starts at 6:30. Our speakers will be: State Representative Steve Tarvin Cooper Jacks, Chairman of the Georgia Teen Republicans Congresswoman Marjorie Taylor Greene Cooper Jacks first became active in the GOP when he was 12 years old. Now, he is a sophomore in high school and the Chairman of the Georgia Teen Republicans at the age of 15. Bring your teenagers to meet Cooper and our Congresswoman! This is a great meeting to get more young people involved. We are also looking forward to other GOPs in Northwest Georgia joining us this evening.



Voter Contact Training
May 19, 2022
5:30 p.m. – 7:30 p.m.
Catoosa County Library 108 Catoosa Cir, Ringgold, GA 30736
The Georgia GOP will conduct voter contact training for the Catoosa GOP. Join us to learn how you can help Get Out The Vote! Space is limited! Email us to reserve your spot!



Door Launch
May 21, 2022
9:30 a.m. – 1:00 p.m.
Mean Mug Coffeehouse 2711 Battlefield Pkwy Fort Oglethorpe, GA 30742
Let's put our voter contact training into practice! We'll meet at 9:30 AM at Mean Mug (coffee on us!) and then head out at 10:00 to knock on doors.



February General Meeting
February 7, 2022
Farm to Fork 120 General Lee Drive Ringgold, GA 30736
Our February meeting was packed with lots of information on how to become a poll worker or poll watcher. Those in attendance received the training required to be poll watchers. If you missed this opportunity and would like to attend an election integrity training, check with us for upcoming opportunities. We also heard from David Belle Isle, candidate for secretary of state. Our meeting attendance was great! We had around 60 people there, including several first-time attendees. It was good to see each one who could come out, and we hope to see you all again!



March General Meeting
March 7, 2022
Farm to Fork 120 General Lee Drive Ringgold, GA 30736
We had a very informative meeting on March 7th with Clay Fuller: Main Street Patriot and Richard Woods for State School Superintendent. Clay's presentation on China's threat to Georgia (and the US as a whole) ended with a call to action to help him "Kill the Dragon" by creating a Counter China Committee. Contact Clay at 706-244-2313 or claytonmfuller@gmail.com to get involved. Also that evening, a couple of Catoosa school board candidates, David Moeller (District 4) and Jerry Jeffers (District 2) introduced themselves, and we had an update from elections board member Debbie Gwaltney on how to become a poll worker.



Meet and Greet With David Perdue
April 14, 2022
2:30 p.m. – 3:15 p.m.
Farm to Fork, 120 General Lee Drive, Ringgold, GA 30736
Join us to meet Georgia gubernatorial candidate, David Perdue at Farm to Fork in Ringgold.



Candidate Debates
April 16, 2022
2:00 p.m.- 6:00 p.m.
Location: Advancing Education Center, 925 Osburn Rd, Chickamauga, GA
We have teamed up with the Walker County Republican Party to host an afternoon of debates for Georgia state house and senate races. All candidates in House Districts 1, 2, 3 and Senate District 53 have confirmed their attendance.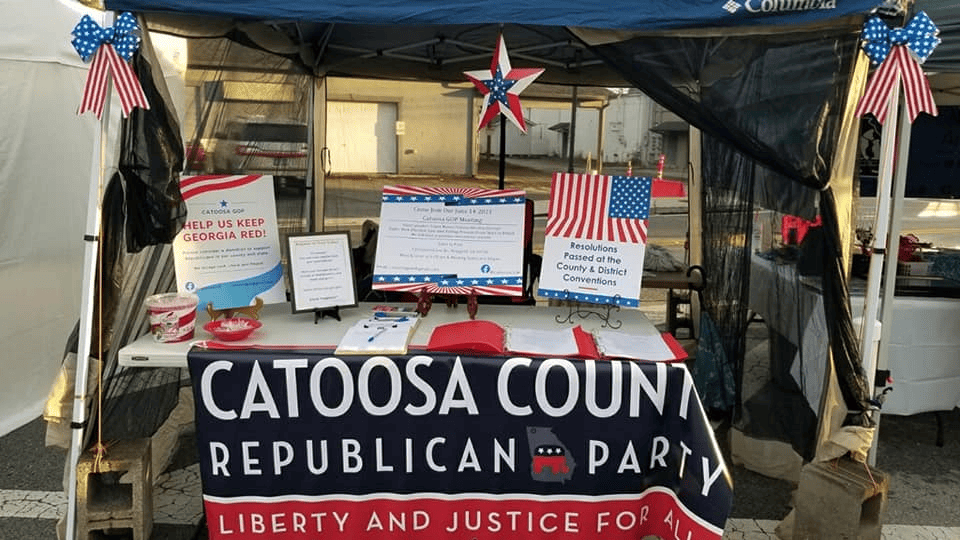 We meet on the first Monday of each month at 6:30 p.m. with a meet and greet that begins at 6:00 p.m. Our monthly general meetings are usually at Farm to Fork, 120 General Lee Drive, Ringgold, GA 30736. Occasionally the date and location will vary, so always check the event page for exact details. 
Now is the time to be aware and get involved. This can start with becoming a member of the Catoosa County Republican Party. Members are part of our local effort to elect Republicans to local, state, and federal level of government.
| Join or renew membership |